Visiting the Manufacture
The Manufacture unveils all of its secrets throughout the year during non-guided or guided tours. Come and discover the manufacturing process of a Véritable Cherbourg, its story and its creations.
An exceptional visit
Having been granted the "Qualité Tourisme" label, Le Véritable Cherbourg suggests you come and visit its showcase in an exceptional sea-view setting. We invite you to take a stroll through the private lounges and discover digitalised transcriptions of the manufacturing process with a view on the workshops.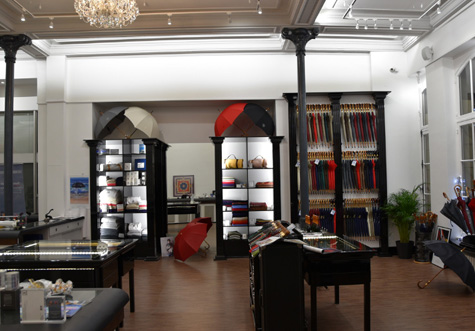 Programme of the visit
When visiting the Manufacture of the Brand Le Véritable Cherbourg, you will discover :
A presentation of the different steps of umbrella manufacturing
A presentation of the brand through a film shown in our cinema
The museum: a retrospective of the brand and umbrellas, an exhibition of unique models created for great luxury brands.
The exhibition rooms with a view on the harbour: photos, paintings, sculptures (according to the artist)
A tour of the Haussmannian boutique
Practical information
Prices
Guided tours of the Manufacture (booking required: (00 33) 2 93 66 60)
Adults: 8 €
Children from 6 to 18 years old: 4 € (accompanied)
Free for children under 5
Non-guided tours
Adult: 5 €
Children from 6 to 18 years old: 3 € (accompanied)
Free for children under 5
Opening hours
Open all year round
Fully accessible to people with reduced mobility
From Monday to Saturday 10am to 12pm and 2pm to 7pm
How to get there ?
By car
Paris : 360km / 224 miles (3h30) via the A13 then the N13
Rennes: 234km / 145 miles (2h40) via the A84, the N174 and the N13
By air
Le Véritable Cherbourg is a 10 minute drive from Cherbourg Maupertus Airport
By train
Le Véritable Cherbourg is a 5 minute walk from Cherbourg train station.
By ferry
Sailings from Cherbourg to England and Ireland.
To discover Cherbourg and its surroundings, you can visit the Tourist Office's website